We welcome you to join us at Holy Trinity Twickenham this Christmas.
You can find a list of our services below, followed by more information about some of the services taking place this Christmas.
Online Christmas services will be aired here on our special Christmas YouTube channel.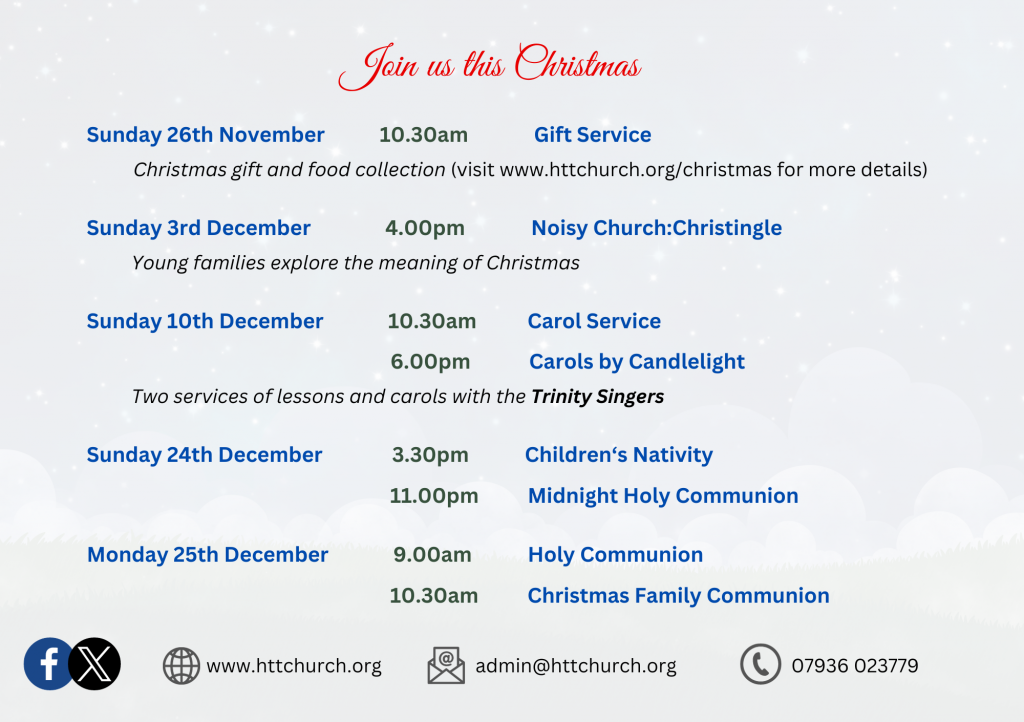 Gift Service
On Sunday 26 November we will be holding our annual Gift Service, collecting gifts and foods in response to the needs of local charities. We are asking for:
– Gifts for women staying at local refuges
– Advent calendars
– All those non-perishable and long life foods that can help make a Christmas meal special (mince pies, biscuits, cranberry sauce, custard, Christmas puddings, stuffing mix, chocolates etc)
– Christmas Crackers
Noisy Church: Christingle
Families are invited to explore the meaning of Christmas at a special Noisy Church Christingle service at 4pm on Sunday 3 December. This will be a lively and interactive service for all ages. Please do bring your children along to find out how an orange, sweets and a candle can be used to learn more about Jesus as the Light of the World.
Carol Services
We will be holding two Carol Services with our wonderful Trinity Singers on Sunday 10 December. The 10.30am service is best suited to younger families, with Sunday School provision also available during the service. The 6pm Carols by Candlelight is more suited to adults and older children, although both services are open to all.
Children's Nativity
On Christmas Eve we welcome all to our Nativity Service at 3.30pm. Children (and adults!) are very welcome to dress up as characters from the Nativity story for this service.